A Lasting Impression
Shucking off my tennis shoes, I would step barefoot onto the mats of my Taekwondo class. The florescent lights made my translucent skin glow and illuminated the blue of the mats so brightly that they became a neon-colored backdrop. My heart would flutter at the ghastly sight of my own feet, my giant white bananas.
This unveiling was a twice-a-week ritual of embarrassment for my 14-year-old self. Each task over the following hour seemed designed to draw more unwanted attention to my jackrabbit paws: Side gallops showed off their springing capabilities; Side crunches brought near-unbearable human proximity, with a partner holding my ankles; Kicks were particularly hazardous to my classmates, reflecting blinding light off the moon-surface of my pale skin.
By the time I quit Taekwondo, I was sick of this awkward feeling. I put my sneakers back on and laced them securely, resolving to make future sightings of Bigfoot unlikely.
The Great Footwear Compromise
My strategy for face-saving was simple: I would trade flashy shoes like strappy heels and dress sandals‒expensive and ugly in a 9.5 anyways‒for sneakers. Cute Pumas and funky, fashionable New Balances in college, then on to regular tennis shoes later on. I've always been active and a fan of walking everywhere, so I never minded rocking the athletic look.
Once I went back into the restaurant business though, I discovered a problem. Each year I was trading up for bigger, squishier shoes. Between walking, hiking, occasionally running and working on my feet 30 hours a week, I couldn't tolerate a shoe that was even the slightest bit uncomfortable. I went through a dozen work shoes looking for a pair that wouldn't make my knees ache during a shift, eventually settling on a pair of Brooks walking shoes. As I put on this pair of huge, heavy shoes to go to work, the old feeling of embarrassment washed over me. My feet had officially lost any semblance of cute I could manage. Pretty soon I'd be power walking around in a pair of 2-inch high orthotic walkers.
Then, right around the time I'd given in to a life of fuggly shoes, I noticed an odd trend catching on in my area. I first saw it while hiking with a friend, on the redwood-lined trails of Mt. Tamalpais. She would exclaim and surreptitiously point, in a mixture of delight and what the hell are these people thinking, at the feet of some of the hikers as they passed. "Those are the barefoot shoes, like I was telling you about!" She'd been enthusiastically describing a good book she was reading, the bestselling Born to Run, by Christopher McDougall.
How anyone could hike comfortably in what amounted to foot glove was beyond me. In fact, I could envision exactly what kind of stabby pain and achiness awaited me should I ever be so foolish as to attempt such a march. Nevertheless, I ended up borrowing the book from my friend, and was sucked in from the first page. I finished the book in two days. The story the book wove about the lives of several athletes was captivating, but it was McDougall's view on feet that kept me burning through the pages.
The central argument presented in Born to Run is simple: Our bodies are naturally designed for movement and running in particular, and shoes, rather than helping, are often detrimental. When wrapped in thick, protective layers of rubber and padding our feet become "dumb," leading us to walk/run with poor form. Furthermore, comfort footwear atrophies our muscles and bones over time. The combination of bad form and weak muscles leads to chronic injury, keeping many a sports injury doc's pockets flush.
These feet, these knees… I can rebuild them! I knew I couldn't rehabilitate my legs overnight, and even the book cautions against doing too much too soon. I chatted with a local running store owner one day who provided some sound advice: Those who drastically tried to change their footwear and habits were returning to him with stress fractures, while those who eased into it swore the transformation was life changing. He himself had switched to running in racing flats (track shoes) in his early 20s, and it had taken him a full year to do it, even at that age. He had however, run comfortably in next-to-nothing shoes for 20 years, injury free.
The feeling was funny, crazy even, the first time I stepped into a pair of foot gloves. The rubber tread made them awkward on the concrete, but once I hit the gravel and trails, it was like a fish to water. My bananas didn't feel so useless and floppy anymore. I could feel everything, my calf muscles struggling, my toes gripping, the rocks on the path feeling, to my overly-soft foot pads, like a massage. The sound of my steps was like a whisper, whereas those who passed me in regular shoes went clonk! clonk! clonk! Afterwards, I was so tired and sore I felt like I'd been repeatedly hit in the back of my legs. And yet, I couldn't wait to take my new shoes out again.
I messed around with barefoot and minimal shoes over the summer with success, but backed off during the fall when my busy season at work hit. I figured it was a bad time of the year try new things and possibly injure myself. Ironically, it was a couple months into this "re-coddling" phase that I ended up getting hurt; I overstretched during yoga, then picked up some wine wrong and bam, my lower back started to spasm on me. Every time I wore my squishy work shoes (a tennis shoes basically with a gel insole) I felt shooting pain in my lower back. Desperate to make the stabbies go away, I decided to throw on a leather pair of barefoot shoes one night for work. I was surprised at the result: My legs were super tired at the end of the night, but my back wasn't in pain for the whole shift.
I may never work up to being a full-time barefooter, as I must be realistic at my age about how much re-conditioning I can accomplish. Still, I appreciate the moments of freedom I've had in my new shoes, and the strength I've gained. Even better, this training process has given me something I never thought I'd have: I don't think of my feet as lame; They are ninja.
Linking up again with Yeah Write!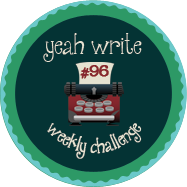 Related posts: